Last November 22nd 2019, Virlanie Foundation, Inc. (VFI) hosted the first ever Bayanihan Gig, a fundraising concert to give an early christmas gift to the Filipino street children and also a part of A Virlanie Christmas campaign.
Bayanihan means coming together towards a common goal : Protect, Love and Empower the most disadvantaged children, help them reach their full potential and integrate them back to society.
This concert was an opportunity for all to come together through music and raise funds for the Virlanie youth and community.
We were lucky to welcome 7 talented performers with very diverse backgrounds : Sleep Alley, 10 A.M Departure, Melody Hodgson, Ian Penn, Johanna, Joey Ayala and Sud Ballecer
Sleep Alley
The first performers of the night was the group Sleep Alley, an alternative-rock band composed of vocalist Althea, guitarists Alyssa and Gabe, bassist Jude and drummer Kyle.
They gave a heartfelt and emotional performance in the name of charity and for the Virlanie kids.
10 A.M Departure
They were then followed by 10 a.m departure, a four-piece alternative-rock band from Metro Manila. The band is composed of Zach on vocals, Chance on lead guitar, Piolo on the drums and Raf for the bass. The group graced us with a lively and fun performance.
Melody
Melody Hodgson, also known as « Melody », a filipino-british singer-songwriter, who is already making a name for herself through her Cebuano music.
She Gave the audience the opportunity to sing along to her songs such as « Boogie » and even invited the Virlanie supporters to listen to her new single « Sabihin .»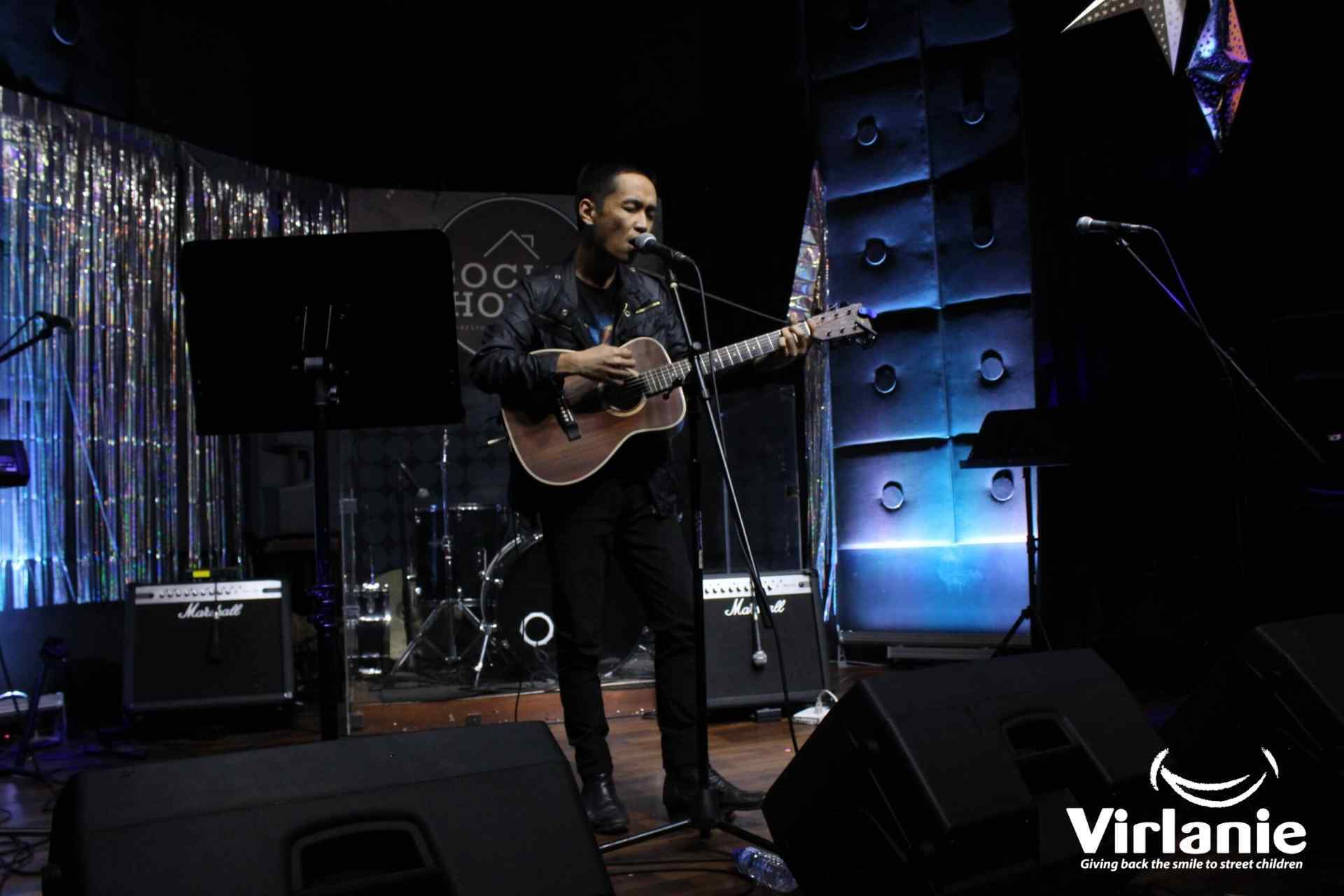 Ian Penn
Following her groovy performance was Ian Penn, a singer song-writer from Mount Arayat known for his laid back performance of his original songs.
Johanna
Johanna, a singer-songwriter from Leyte, and also a former VFI colleague, performed her original songs for the crowd.
Joey Ayala
Next was the Philippine music icon Joey Ayala who is best known for his indigenous and alternative music performed his hits like Karaniwang Tao (Common Man) and Walang Hanggang Paalam (Endless Goodbye) His engaging songs made his performance more special as he played his songs whole-heartedly for the cause of street children. He gave a powerful performance of his most famous songs from his repertoire which was received with delight and cheers by the whole audience.
Sud Ballecer
Closing the gig was Sud Ballecer, who has been known in the indie scene 2011 as the lead vocalist of his band SUD. He gave a strong performance full of emotions which was the perfect way to finish the night.
A successful fundraiser
This event was a success thanks to the performers and all the participants who made the event possible. The Bayanihan gig managed to raise Php 30,000 in ticket sales which will be given to the Virlanie youth and community.
Virlanie is still open for more support in its A Virlanie Christmas campaign. You can click the link below to know more about it and get a chance to win exciting prizes.