Solidarity Against COVID-19 is a Virlanie emergency campaign that aims to give support to the affected street families amidst the threats of COVID-19. The Enhanced Community Quarantine implemented by the government has affected many Filipino families, mostly those who are in the poorest of the poor and do not have a stable working and living conditions.
The Solidarity Against COVID-19 campaign started last March 20, 2020. Virlanie Foundation, Inc was able to reach out 603 families, equivalent to 3,000 people including children, to benefit the campaign. 521 families were given on-hand relief in Metro- Manila (Parola, Aroma, Delpan, Bagong Silangan, Divisoria, Manila and Metropolitan, Makati) and 82 families residing outside Metro Manila, ( under Balik Probinsya and Family Reunification Programs) received Money Remittances through Bank transfer in order to purchase food and hygiene goods
Relief packs are donated containing, vegetables, 10 kilos of rice, canned goods and ready to cook meals, enough to sustain their living during the strict implementation of quarantine. Hygiene kits for personal sanitation are also given to families in order to protect and prevent themselves of acquiring and transmitting the virus. These kits are inclusive of vitamins, alcohols, face masks and soaps.
The first wave of relief operations started last April 8, 2020 where Virlanie team distributed relief to Parola, Delpan, Divisoria, and Aroma. Communities in Sampaloc; Quiapo; Metropolitan, Makati; and Onyx, Manila followed by April 9th. Bagong Silangan, Delpan Fire Incident, Virlanie Voices, Family Reunification Program beneficiaries are also given aid by April 16, 2020. Money Remittances are also given to other beneficiaries, amounting to Php 1,000.00 per each family.
Second round of relief operations will be sustained until the 30th of April 2020.
The Delpan Residential Fire
In the middle of the ongoing campaign, last April 15, 2020, a fire razed Delpan, Tondo, Manila. 50 families were assisted and were given additional aid to sustain their living. The affected beneficiaries were relocated to a nearby public school in their area and they are currently living in tents. Food packages, linens, clothes, bottles of milk for babies, mattresses and cushions have been donated to them.
The street pillar team also reached out to them for close monitoring to ensure that they will be given enough support on the situation. They were also given some psychological first aid to assure them that they are well guided and supported by the Foundation in this time of crisis.
Virlanie Families expresses love for Donors and Virlanie
Families from various communities poured out their heartwarming messages for the Virlanie Staff and donors who shared their time and resources for them to survive during these trying times. The scenario is once in a lifetime experience, where Virlanie Staff members witnessed overjoyed beneficiaries when they arrive and distribute the relief goods.
Some of them alsosent  personal messages to our Social Workers and Program Coordinators in order to thank them for the life-saving help brought to them by the Foundation. 
Virlanie finds this as an inspiration to continue in pursuing its mission to serve the poor communities in these trying times.
While our teams are working hard on the field, all of this would not be possible without the help of Virlanie donors who shared their resources and income for the benefit of children and families who are severely affected by the current situation.
As of April 27, Virlanie Solidarity Against Covid-19 campaign raised  Php 4.75M. This is the sum of the generous support of individuals, corporations and partner Foundations coming from the Philippines and abroad. Juniclair Foundation, Air Liquide Foundation and Enfance Tiers Monde are among the main supporters of the campaign.
While the world is about to enter a severe economic recession, this successful fundraising will allow Virlanie to continuously extend and improve its support to the poorest of the poor during the Lockdown and during its aftermath in the coming month.
Thanks to our donors' significant support and after consultation with our beneficiaries, Virlanie decided to improve its help. Additional 500 PHP cash will be given to each family so that they can purchase goods that are not part of our packages according to their specific needs (baby milk, oil, sugar, medicines, cleaning products, etc.) Thanks to a newly partnership with a vegetables and fruits seller, Virlanie will be able to include more fresh goods like vegetables and fruits to its food packages. Proper nutrition is key to ensure immune system performance.
Please consult our transparency report for more details about our Campaign funding.
"True enough, you'll see a lot of superheroes in this time of crisis! We are grateful to all our donors and partners for extending their helping hands to our beneficiaries. Without their help, our food relief operation will not be possible and successful," said Chezsana Ebot, Virlanie Fundraising Manager.
Until now, there are still many donors and individuals who are trying to reach out to Virlanie to show their kindness and compassion towards the poor communities. In this season of quarantine, where most people stay at home, it is never too late to realize that through solidarity, we can make this world a better place for all. Together, we can make a difference by helping one another.
The Exemplary Dedication of Virlanie Staff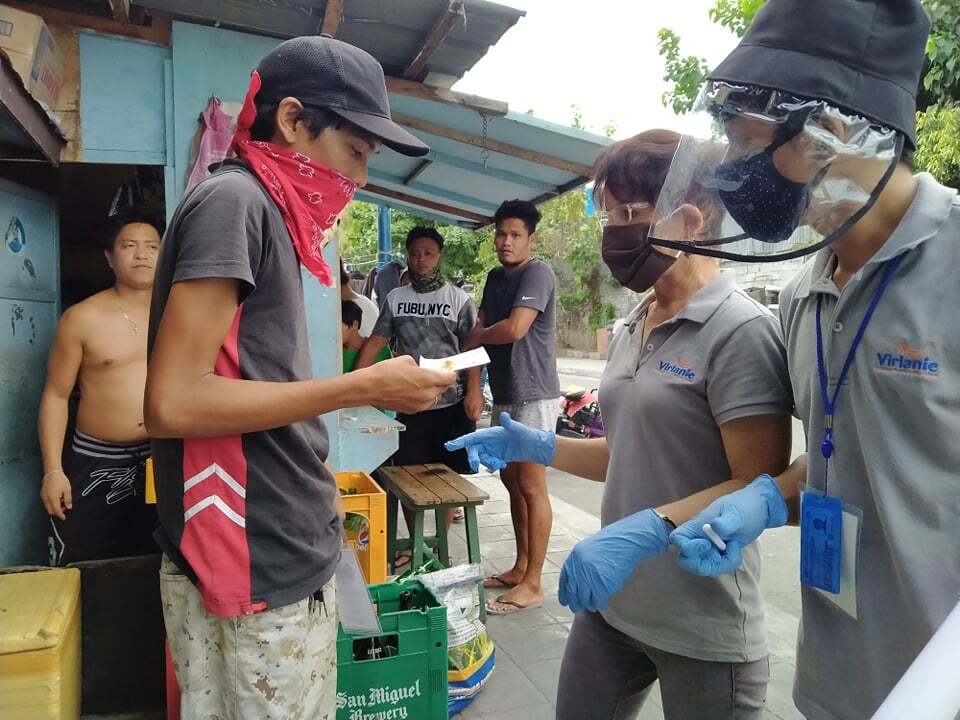 The pandemic COVID-19 has created serious threats to the lives of millions of people around the world. Dealing with the health situation, mobilization of basic resources is a challenge. However, this did not stop the planning and execution of our Virlanie team to bring aid to those who might need it and make the funds be worthy of its costs. Cenen Milan, Virlanie's Program Director shared his thoughts about how the Virlanie staff cooperate to achieve solidarity.
"Our Virlanie staff showed their dedication by showing their willingness to help out the families affected by the Enhanced Community Quarantine. From repacking, to distribution, they never failed to support the cause. Our social workers showed their passion in extending help to these families who are in dire need of support. I am thankful that we have a team that shows such dedication, and these are the few things I find irreplaceable," he said.
Virlanie also values transparency during these trying times. You can check our latest transparency report here to know where the flow of donations went through.